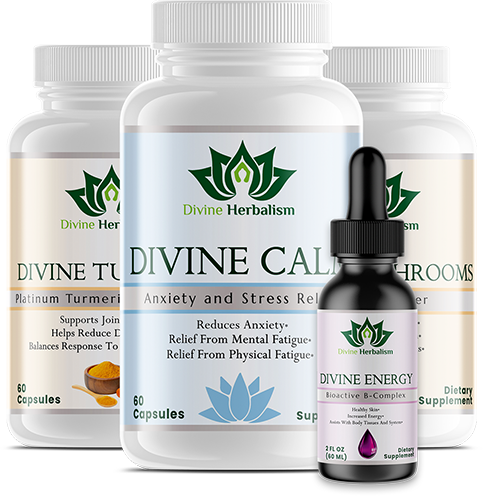 The Highest Quality Supplements
Join The Divine Movement!
At Divine Herbalism, we are dedicated to bringing you the highest quality all natural supplements meant to improve your longevity and quality of life.
Well-Being
Life is too short to be spent in discomfort. Our mission is to help everyday people who are looking for ways to naturally support and promote a healthy body.
All Natural Ingredients
We strive to redefine what's possible by combining nature with science in order to provide safe and effective formulas for optimum health.
Longevity
We truly care about your quality and quantity of life. That is why the entire Divine Herbalism supplement range has been carefully crafted with long lasting results in mind, based on scientific research.
Vitamins and Supplements to Boost Energy
I have been feeling quite anxious and stressed over the last year and I was recommended by a friend to try Divine Herbalism. They have a product called Divine Calm which to my surprise really helped me support my healthy state of mind without any side effects of sleepiness or fatigue. Divine Calm is an awesome supplement. I love feeling normal & relaxed as well as being able to work throughout the day in a healthy stress-free manner. Thanks a million
Deal Of The Day Free shipping for the US on orders over $49.99!
I purchased the brain bundle for myself not knowing how it would work. I was so surprised at how quickly you feel focused and more clear headed. I loved it so much that I started giving these to my teen. Our whole family has become scatterbrained and forgetful with our busy schedules and always trying to multitask so these are a lifesaver for all of us. My son is a student athlete and I can tell the difference in him, especially doing chores and school stuff. They work great, they do their job. I will be purchasing these for my family again. No aftertaste and they work fast. Highly recommend.